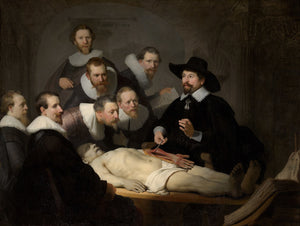 Regular price
Edinburgh Seven
---
Each Limited Edition Print is signed and numbered by the artist
See the info page for more details including edition sizes.
I was commissioned by Edinburgh medical school to create this image. It is a reimagining of a Rembrandt painting from 1632 called 'The Anatomy Lesson of Nicolaes Tulp', a copy of which hangs in their Department of Anatomy. The original shows a group of male medical students and teacher gathered around a cadaver. It was decided to reproduced this image with contemporary women medical students who represent the Edinburgh Seven who were the very first British women medical students 150 years ago. Being women they were at that time not allowed to graduate so were rightly honoured at last year's posthumous degree ceremony. It was a tough job with a bit of a compromise to shoot in a really short period of time but I loved being part of redressing the balance.
Its new home is the Sophia Jex-Blake common room in the Chancellor's Building at Edinburgh BioQuarter. Be sure to check it out next time you are passing. The contemporary medical students are; Simran, Izzie, Sorna, Ella, Mei Yen, Caitlyn, Megan alongside Teaching Fellow in Anatomical Science, Alethea. Liam kindly modelled the cadaver.
I was really pleased to be asked to shoot this as I already had some connection to the painting. By chance I'd already created a version of it in just the same spot using my Conemen characters quite a few years earlier.
See the blog post
with more images.